~ The Story of Red Tent Health Centre ~
Naomi and myself have been married in business and friendship since 2009. We are acupuncturists, herbalists and Eastern wellness mentors. Naomi is also a doula and I'm a yoga teacher. We started the Red Tent Health Centre to bring together talented practitioners to help women throughout their childbearing years.
We wanted to establish a community, somewhere women could go to be heard, healed and supported with natural medicine. We named our health centre after the book Red Tent by Anita Diamant because we wanted to emulate the qualities from the book about a community of women supporting each other through important transitions: menstruation, pregnancy, birth, breastfeeding and raising a family.
We are both mothers of beautiful, healthy children, and our entire philosophy focuses on the profound journey of motherhood – from the prenatal stage through to pregnancy, birth and beyond.
We Keep it Real
People often think that we eat wholesome organic food every minute of every day, never have a drop of alcohol and wash our hair with lemon juice. We're not like that at all. We're all about balance. We do love our natural stuff – food, herbs and products, but we also like a bit of the regular stuff – and we do enjoy a glass of wine (as long as we aren't pregnant or breastfeeding). Just like you, we're not perfect! We do our best, but we also believe life is here to be enjoyed!
Passionate About Birth
We are both incredibly passionate about birth. Our mission is to change the world, one birth at a time. We believe that a positive birth, in which you feel supported, cared for, listened to and have been able to make educated choices about, leads to a much better start to motherhood and attachment with your child. And this is just so important for humanity as a whole.
We're mums on our own journey and because of our job and passion, we get to share your journey too. We feel blessed to be part of the birth preparation for so many women. Once upon a time the only way we could support women was to have you come in for a treatment. Now we are spreading the love and wisdom further to women worldwide.
Spreading the Love ~ Taking our Teachings to the World
We offer workshops and online courses that teach expectant couples and midwives to use acupressure for birth support. The results have been phenomenal. Women who face medical inductions manage to avoid them. Acupressure helps women have the natural vaginal births they long for. Back labours are turned with acupressure so the labour is faster and less painful. Women love the acupressure as it reduces their pain.
Our online courses for mums also teach safe, natural remedies for nurturing the health of bubs, toddlers and families and in early 2015 we launched our first Bumps Births Babies – Holistic Health Conference.

That's Us in a Nutshell!
So now you know a little bit more about us. We are the Directors of Red Tent Health Centre – we're at your service and we're keen for you to get the most out of yourself, your kids and your health. We're here to help you find the balance, so cheers to that!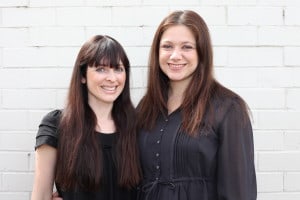 Rebecca & Naomi
xx
Your Eastern wellness mentors
Directors of Red Tent Health Centre & Acubirth® – Education for Midwives
Authors of the forthcoming book: Hands-on Birth ~ Eastern Wisdom & Acupressure for a Beautiful Birth
Presenters of Bumps Births Babies – Holistic Health Conference
WHERE TO FROM HERE?