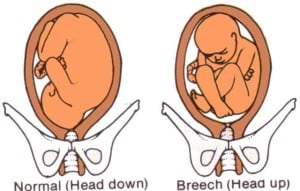 During pregnancy, a baby in breech position is upright instead of facing head-down. At the Red Tent we have helped many women turn their breech baby using natural methods so that their bub is in an optimal position for birth.
Being an acupuncturist who has enjoyed the privilege of touching so many pregnant bellies over the years, when it came to my own pregnancy, I found that I possessed insight into the sweet secrets within my own belly.
I was pregnant with bub number two throughout 2015. From early on, this little fella liked to remain upright. Standing to attention. As soon as he was big enough for me to determine his position, I knew he was standing. On occasion, he would let his little feet explore a tad to the left or right and let his body lie down for some brief hours, but after this little vacation he would return to his favourite position – tall and proud (in yoga, they call it tree pose!).
I knew the potential complications of a breech birth. If things hadn't changed at 37 weeks, I would be offered an ECV. Ideally, I wanted a natural vaginal birth, so my baby's breech position caused me some anxiety as the pregnancy progressed.
I doubted that he would turn of his own accord to the ideal head-down position to make the birth and the rest of the pregnancy less complex. I was nervous he would choose a position that would also make vaginal breech delivery not an option.
Oddly, I was a little excited about the challenge and specialness of exploring the process of trying to turn the bub, or of having a breech vaginal birth. Yes, I know this makes me a little strange, and maybe I can attribute this to being in the healing arts. But weird or not, there you have it!
I knew the obstetrician I wanted to have on hand at the hospital if my baby stayed breech, and I knew I would have to put up a fight to get my preferred doctor. I was ready to fight for him, ready to birth a breech bub, ready to experience an ECV and ready to do everything I could to help bub turn.
Natural Methods for Turning Breech Babies
So, when I reached 32 weeks, I got to work. Naturally, I began with weekly acupuncture with moxibustion at the Red Tent Health Centre. My husband diligently moxa'd my pinky toe every evening.
I followed exercises from the Spinning Babies website doing headstand contortions and I even slid head-first down a surfboard dangling off the side of our couch whilst my stomach let vomit drop down into my mouth. Glorious. Delightful. Sexy.
I became aware that I was holding loads of tension throughout my abdomen and needed to consciously let my belly relax more. I felt this created loads more space for bub to turn.
I went to a chiropractor for Webster technique. We even put ice on top of the baby's head (yes that was uncomfortable).
Then after 3 weeks of these shenanigans, I woke up one wonderful Saturday morning and felt that my belly had changed. I came out and told my husband I thought the bub had turned and was head-down. I doubted myself and was too nervous to be optimistic.
A few days later, a midwife confirmed for me that bubba was indeed head down. I was elated! A huge relief came over me. I had secured the opportunity to have a less complex, natural vaginal birth.
I continued with the acupuncture and chiro until my baby was born as I felt it had been so helpful in aligning my body and allowing change and encouraging healthy progress.
Here are some links to important information that helped me loads:
Red Tent Health Centre – Moxibustion for Breech
Spinning Babies – Breech Baby Positions
Breech Birth Australia and New Zealand
Breech Birth Australia and New Zealand Facebook support group
I also feel that accepting that I could birth my breech baby beautifully and there was still hope for vaginal delivery allowed me to relax and surrender.
If you're in Sydney and would like some help to turn your breech baby, contact us.
—
NAOMI ABESHOUSE
Acupuncturist, Chinese Herbalist, Doula
Director of Red Tent Health Centre & Acubirth® for Midwives
---