Acupressure to Relieve your Pregnancy Reflux
Reflux is often referred to as heartburn because it feels like a burning pain in your heart area. It's a symptom many women experience during pregnancy for various reasons. It occurs when the digestive juices from your stomach counterflow back up into your oesophagus. From a western point of view, hormones produced during pregnancy help to relax smooth muscle which can therefore include your digestive system and hence the pain. It can be experienced at any time during the pregnancy however is more common towards the end, when the uterus is pushing up into the diaphragm and stomach.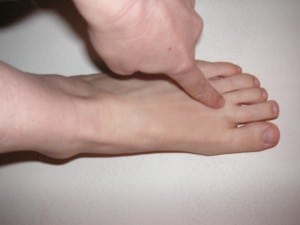 From a Chinese medical point of view, it is seen as counterflow Qi (Qi meaning energy) in the Stomach meridian (energy channel). Since the woman usually feels a "hot" or "warm" sensation, we use the water point on the Stomach channel, number 44 to take the "heat" away. Sounds crazy, but it works time and time again! Often in clinic when we are treating this condition, we hold this point firmly on the woman's foot and she is surprised by the instant relief it brings. We then place a needle into the point to make the effect last longer. We will often give you tiny little stick on needles to take home and use at night before going to bed, or after eating, so you can continue the treatment as needed.
Where to from here?
Learn more acupressure techniques to support your birth at our Acubirth workshops