A Short Course

Acupressure Workshop to support your Natural Birth.
If you are keen for a natural birth then this short course is invaluable for you. It is the perfect companion to your birth education classes (SheBirths, Calmbirth, Hospital classes).
You will learn effective pain relief techniques in a supportive and informative environment using acupressure. You will find out how to help keep labour moving along when moving from home to hospital, whilst staying calm. You'll find out how to relieve nausea, settle the mind, regulate contractions, turn posterior babies and more – all with simple acupressure methods that your partner can learn and apply easily during your birth.
In this workshop, you & your partner will come away with precious tools to effectively assist a natural labour, staying connected with each other and your baby. It's hands-on for the partners, who really enjoy it, gain confidence, and feel they have much more in their tool box for the big day.
We have been running these workshops for couples for over seven years now.  More recently have been teaching Acubirth to midwives and doulas, in Australia and all around the world, through our Australian College of Midwives accredited courses. Currently we are teaching Acubirth to the midwives at the Royal Hospital for Women, here in Sydney.
What past participants have said: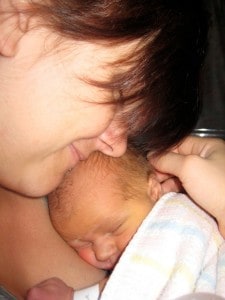 "I had a really good birth. The acupressure was a distraction as much as pain relief. Before doing the course I was in the dark about what to expect, few people talk about their positive experiences, you hear a lot of negative and I didn't want to hear those.  Naturally I'm quite an anxious and worried person. I was really concerned about the birth.
"After doing your course and Calmbirth, I felt like I could do it and I could trust that my body would do its thing. I signed up to the Acubirth for Couples course because I'd had some morning sickness in early pregnancy, nothing serious and found an article on Essential Baby that you had written. I tried the points and they were really effective. I like being able to use natural techniques to manage symptoms, so I signed up to the newsletter and found out about it from there."
"It was good for my husband to be able to do something, to help, to be involved and feel useful. I felt more supported, had actual pain relief, felt calmer and more in control. Having the acupressure was what got me through the labour, it meant I could have the drug-free birth I wanted. It played a huge role. It allowed me to stay at home for most of the time. Having the acupressure was paramount to having the birth I did.
"I've certainly recommended it to other people. It made such a difference to my experience."
Acubirth for Couples – Shannon Taylor who gave birth to Elliot – Sydney.
"I've used these techniques as a Doula with most of my clients and have been amazed by the results. I highly recommend Rebecca's workshop as part of your preparation toward the birth of your baby." Lauren Penning, Sydney.
"Easy techniques which were simple to learn." Brett, May 2010
"I enjoyed the course and liked the re-assurance given to us blokes." Participant, 2010
"It gave great support for the partners – gave them the confidence to help in a positive way." Kerrin Booth, Sydney
"It was very hands on and enabled good interaction with my partner." Participant, 2010
"Practical application – good notes – a good way to get my husband involved in the birthing process." Participant, 2010
"I liked the hands on advice and hearing other people's experiences of labour and what to do. Good advice for the partner and how to deal with it was helpful." Participant, 2010
Group AcuBirth for Couples:
These will be run next year when Naomi is back from maternity leave.
We are in talks with the major hospitals about running them there as well: RPA, Royal Hospital for Women and St George, so watch this space for details on those.
Private AcuBirth for Couples:
Where: at Red Tent, shop 2, 66 Hall Street Bondi Beach
For inquiries: Call us on 02 9300 9522 or email here: info(at)redtent.com.au
You will receive: A booklet of the points and an easy quick reference sheet for your big day.
Your investment: $220
FULL PAYMENT secures your place. Refunds will not be given unless the workshop is cancelled by Rebecca & Naomi, or you have gone into labour.
Where to from here?
Discover how acupuncture can benefit you during pregnancy and to prepare for birth