Moxibustion for Turning Breech Babies Around to the Head-First Position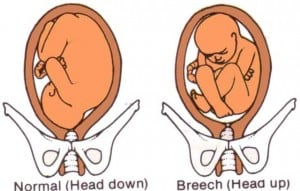 Have you heard about the use of moxibustion for breech babies? According to the American Journal of Obstetrics and Gynecology, moxibustion is 36% more likely to turn a breech baby to the optimal position for birth than any other form of treatment, including no treatment.
'This review pooled the results from studies published between 1980 and 2007 that looked at ways to turn fetuses that were not well-positioned for head-first birth into that position. The studies compared moxibustion to other ways to encourage the fetus to turn (hands-to-belly manoeuvres, having the mother lie with her head lower than her feet, acupuncture).
Acupuncturists use moxibustion which involves burning the herb mugwort (Artemisia vulgaris) over an acupuncture point found on the outer corner of the smallest toenail. Seven studies presenting data from 1087 women were included in the analysis. All the women in the studies in this review were randomly picked to receive either moxibustion or one of the other methods, to strengthen confidence that any differences in experiences of study groups were due to the moxibustion.'
Combined results from the studies showed that the fetuses of women receiving moxibustion were 36% more likely to turn to a head-first position than those who got other treatments or no treatment, and this result was statistically significant. The study found no differences in safety between moxibustion and the other methods.
Source: Vas J, Aranda JM, Nishishinya B, et al.Correction of nonvertex presentation with moxibustion: A systematic review andmeta-analysis.American Journal ofObstetrics and Gynecology 2009;201(3), 241–59.
If you are told your baby is presenting as breech, moxibustion may be an effective option to move your baby into the right position. However, having acupuncture between 33 and 36 weeks will give you the best opportunity to turn that baby. So don't leave it too late as your little person needs some room to move! A 1998 Italian study found that 75% of breech babies turn using acupuncture between 33 and 36 weeks!
My second baby was breech and you can read here how I used natural methods to help him turn around!
So where to from here?
Read up on Moxibustion to discover what it's all about
Learn about our acupuncturists who regularly turn breech babies with Moxibustion (aka Moxa)
Discover what else we can help you out with during your pregnancy
---
Discover both the science and the ancient wisdom of birthing. Be inspired to reach your dreams and goals. Be guided to listen to yourself and trust yourself. Learn about pregnancy, birth and parenting – all in the one place – online at our
Instant access. Available NOW.